About Us
Name: Združenje gluhoslepih Slovenije DLAN
Adress: Trebinjska ulica 7, 1000 Ljubljana
Tel/Fax: (00386) 1 542 20 03
GSM: 040 558 832
Registration number:: 2045133
Tax number: 97676853
Checking account: SI56 0208 3026 2742 811
E-mail:
info@gluhoslepi.si
zdruzenje.dlan@gmail.com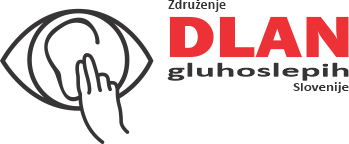 The Deafblind Association of Slovenia DLAN is a self-standing and independent, professional disability organization with representative status for people with deafblindness. It operates all over Slovenia. It was established with the aim of identifying, defending and satisfying special needs and representing the interests of people with deafblindness. The DLAN Association is a full member of the European Deafblind Union (EDbU), the World Federation of the Deafblind (WFDB), and the Slovenian National Council of Disability Organizations. It is the only Slovenian organization in the field of deafblindness that operates internationally.
The Deafblind Association of Slovenia DLAN implements the social care program Training and Social Rehabilitation of People with Deafblindness, which has been professionally verified by the Social Chamber of Slovenia and within which the Day Center for People with Deafblindness operates. People with deafblindness are daily involved in various supportive forms of individual assistance and guided activities in co-financed programs: Personal assistance, Training, and social rehabilitation, Monitoring and interpretation, Training for the deafblind and volunteers, Reducing social exclusion, Special information and publishing activities for people with deafblindness and their relatives, Family self-help group, Expert deafblind counseling, and advocacy. The programs Individual development of ways of communication with deafblind and Professional assistance to people with age-related deafblindness are also implemented. The deafblind actively participate at all levels of the organization. A user council has been specifically set up to meet continuously with a view to providing guidance based on the needs of the deafblind and co-deciding on all important things in the field of deafblindness. The Deafblind Association of Slovenia DLAN is a provider of personal assistance and early treatment of children with disabilities within a development clinic with an early treatment center.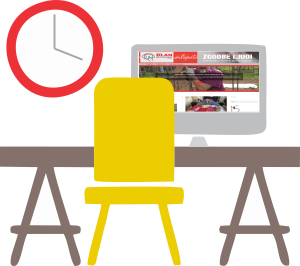 Office hours
working day: 8.00a.m. to 4.00p.m,
except on Tuesdays: 10.00a.m. to 6.00p.m.