On Thursday, 15th of December, the Lions Club Ljubljana Forum held a charity New Year's stand on Prešeren Square in Ljubljana to raise funds for the purchase of devices for the deafblind. Devices will be purchased by the Deafblind Association of Slovenia DLAN. Company Super Catering also participated in the stand and contributed to the fundraising by selling schmorn and home-made mulled wine.
On behalf of the members, employees and all friends of the DLAN Association, who are working together to make everyday life better for people with deafblindness, we would like to thank the Lions Club Ljubljana Forum and to all the club members for this charitable and generous support. Special thanks to the President of the Lions Club Ljubljana Forum, Mr. Tomaž Merhar, and to the Director of Super Catering, Mr. Žiga Merhar, for their help in organising the event.
Your help is extremely valuable to us, and we thank you for it.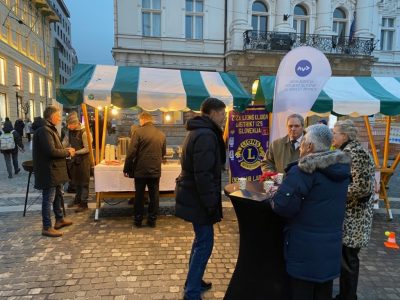 Foto: Lions klub Ljubljana Forum